CQ WW VHF Contest Plaque Program
1. The CQ World-Wide VHF contest, held annually the third full weekend in July, offers unique, handsome 8" x 10" wood plaques to the highest scoring stations. Plaques are offered on a sponsored basis, with the name and call of the donor, club, or business entity engraved on the plaque.
2. Plaques are grouped into two categories: USA and World (non-USA).
3. Suggested categories for plaque winners are as follows: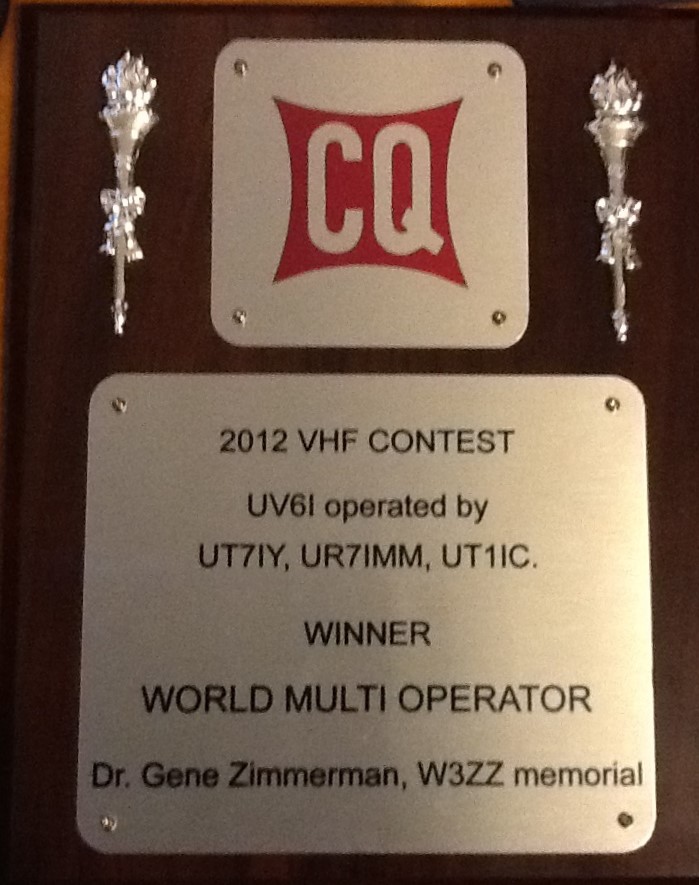 Single-Op All-Band
USA
Canada
World
Europe
Asia
Single-Op All-Band 6 Meters
USA
Canada
World
Europe
Asia
Single-Op All-Band 2 Meters
Rover
Single-Op QRP
Hiltopper
Multi-Operator
USA
Canada
World
Europe
Asia
Club
Other
Individual countries such as Ukraine, Thailand, Russia, Japan, etc.
4. Only one plaque per contest entry will be awarded. If an entry is the high score for more than one plaque category (example: top EU and World), the higher category is awarded (World) and no plaque is awarded for the lower category.
5. Other special categories will be considered for sponsorship. Contact the Contest Director.
6. Donors who wish to sponsor a plaque may send a check for $65.00 USD payable to: CQ VHF Contest Program. Mail to: Steve Bolia, N8BJQ, PO Box 355, New Carlisle OH 45344, USA. Include your name and call and the club contact name and call if this is a club sponsorship. Specify the preferred category to sponsor (see categories above) and indicate if you are willing to sponsor a different category if the one you listed is not available. The cost of sponsorship covers the plaque, artwork, engraving, and mailing. Contact N8BJQ for payment via PayPal.
7. Thank you for your support of the CQ WW VHF Contest.
73!
Steve Bolia, N8BJQ
CQ WW VHF Contest Director
n8bjq@cq-amateur-radio.com